Invisalign® in Forest Lake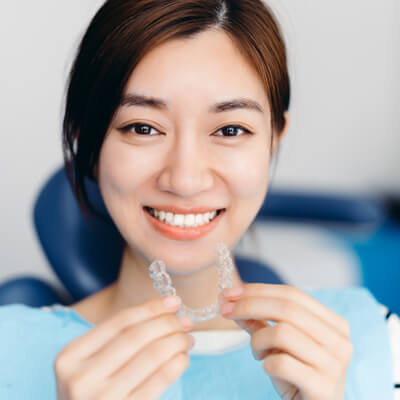 It's often been said that your smile is your best accessory. If yours is gapped or crooked, we can help you achieve a straight and confidence-boosting smile with Invisalign!
A Comfortable Alternative to Conventional Braces
While traditional metal braces have effectively straightened countless smiles for years, they are unattractive and often uncomfortable. With Invisalign, however, you can comfortably align your smile by wearing a series of clear aligners, which will gently straighten your teeth over time. Because Invisalign is virtually invisible, you can achieve a straighter smile discreetly.
NEW PATIENTS

What Does the Process Involve?
Getting Invisalign at Lake Dental is easy and straightforward. During your first appointment, X-rays, pictures and moulds of your teeth will be taken. Afterwards, a digital 3-D image of your mouth will be created. You will be able to see how your teeth will gently shift into place during each stage of your treatment.
Frequently Asked Questions
How often do I need to change my aligners?
Every two weeks you will switch out your aligners as you advance through your treatment. Each aligner will gradually move your teeth more until they're in the desired position.
How long do I need to wear the aligners each day?
For optimal results, it's essential that you wear the aligners for 20-22 hours per day, taking them out only to eat, brush and floss your teeth. We will monitor your progress with regular checks.
How long will my treatment take?
Though the length of treatment will vary from patient to patient, the average treatment time for adults is about a year. After you've completed your treatment, we may recommend that you wear a retainer to keep your teeth aligned in position. Wearing a retainer can help you avoid orthodontic relapse, and protect the valuable investment you made in your smile.
How much does Invisalign cost?
Invisalign treatment cost will vary from patient to patient and may be dependent on the complexity of your particular case is. You will be given a precise estimate of your treatment cost, so you know what to expect before proceeding with your treatment.
Get the Smile You Deserve
Are your ready to achieve the straight, beautiful smile of your dreams with Invisalign? If yes, we encourage you to schedule a consultation today!
* Any surgical or invasive procedure carries risks. Before proceeding, you should seek a second opinion from an appropriately qualified health practitioner.

Invisalign® Forest Lake, Heathwood, Greenbank QLD | (07) 3879 8999